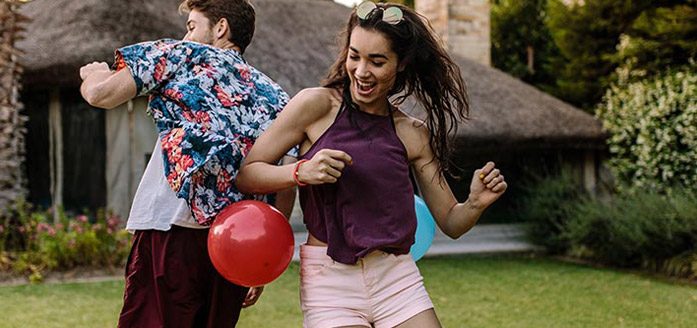 Just For Two: List Of Party Couple Games
Everybody likes to play games. So why not play it with your partner? These fun couple games will grow your bond make it stronger. It becomes exciting and kinky at the same time. They will be fun when played sportingly and can also increase the intimacy between the two. Couple games are the best way to interact, know and have a little private moment with each other. A relationship is not only about cuddling and spending time with each other. It is also about to let losing your life and getting to know each other. 
Read it: 7 types of friends you need to have in your life 
Top 5 Party Couple Games 
To keep relationships lively, here are some free couple games that you can play with your partner:
Treasure Hunt
This exciting game will be for active couples and have friends who can arrange this game for them. 
What you need to do:
Look for out the couple who is not involved in this game and can make arrangements for you.

They need to leave some clues for the couples who are a part of this game.

One clue will lead to another, and so on.

The one couple who solves all the clues and reaches the end of the game wins it.

You can have a prize for people as a token for winning it.
While this game is all fun, some couples can fight over the task too. So, don't be surprised with it and keep the entertainment going. 
 Truth and Lies
The truth and lies game is generally played with a small group of people or between a couple. We all have heard about the idiom that "Honesty is the best policy," but in this fun game, it is an exception. 
What you'll need:
How to play:
Provide every couple with a piece of white paper.

One of the partners has to write three lies and truths about themselves.

The other partner has to separate the lies from the truths.

The couple who makes the correct guesses will go to the next round.

This game continues until two couples are left.

In the final round, the couple has to play the game orally.

The couple who make the wrong guess loses it.
Pop the Balloon
Get ready for some floating and exciting fun. It is a hilarious adult game that is entertaining as it sounds. 
What you'll need:
How to play:
You have to distribute the balloon to each couple.

One of the partners has to burst the balloon by pressing and rubbing it on the other partner's back by not using the hands.

The couple who burst out the maximum number of balloons in three minutes is the winner. 
How well you know your partner
This game will test how well you know your partner inside out. Maybe you'll learn some new things about your partner with this fun game.
What you'll need:
How to play:
Take a piece of paper and cut it into two equal parts, for man and woman.

Have categories as much as you want, such as 'favorite colors,' 'favorite movies, favorite foods, etc. 

In each category, every person has to write the preferred choices of their co-partner on one half.

On the other division, they have to write their preferred options.

For every correct answer, the couple will get the point.

Each couple has to take the test individually, and the host will compare the responses.

The couple who receives the maximum matches or points is the winner.
Truth or Dare
Truth or Dare is the most daring game of all time. In this game, you have to push your boundaries and come out of your comfort zone to play this hilarious game. This game will let you know your partner romantically. If they chose Truth, you have to ask personal and sensitive questions, and when they decide Dare, you can make them do something hysterical.